New Britain's annual "Take Back the Streets" anti-violence rally attracted a great crowd at Walnut Hill Park last Saturday. The rally had over 1,000 attendees! With the efforts of community agencies and programs, such as Opportunities Industrialization Centers, New Britain Parks and Recreation, Pathways/Senderos and Jobs for America's Graduates, we all came together to help create and maintain positive relationships between law enforcement and our city's youth.
New Britain High School JAG participants wanted to help spread the peace. As a project created in the student-led Career Association, JAG students promoted the cause by selling purple anti-violence ribbons, ti-dyed purple shirts and ran a booth on the day of the event. The students created a banner that stated, "Come up with a resolution, violence is never the solution." Guests of the event who stopped by JAG's table pledged to be non-violent by adding their painted purple handprint to the banner. Purple was the theme color because it is the color that nationally represents non-violence.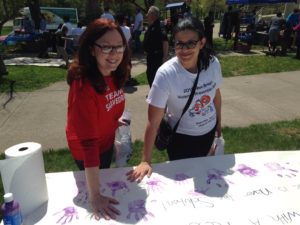 In the above picture are New Britain Board of Education members Sharon Beloin-Saavedra and Daisy Sanchez making their pledge! Thank you for your support!
Student volunteers included Quandaysha Shumpert, Morgan Mack, Kyara Vargas, Thalia Rodriguez, Savina Hollingsworth, Jimmy Vega-Nelson, Samantha Kilduff, and Myleisha Ortiz.