Hillhouse Students Make Business Presentations
NEW HAVEN – After weeks of preparation, Hillhouse JAG students made presentations to their classmates about new businesses they would like to own someday. The students spent several class periods designing and creating their businesses, seeing them through from beginning to end.
Initially, they were given a rubric and some leading questions to help them brainstorm what they would like to focus on.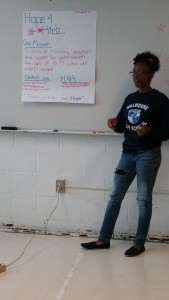 Students had to think about the purpose of their business before coming up with a name, mission statement, slogan, and logo for their chosen business. They were asked to consider what types of employees they would want to hire and the dress code that would be required of employees. Finally, students had to design a poster, power point, or use another visual to present to their peers.
Students were innovative in thought and original with their creations. Ideas ranged from restaurants and candy companies to tattoo parlors to shoe restoration to cell phone e-commerce sites to a sports media and jersey sales company to helping children and other students, like DaShawnda McCullough's "Hope 4 Kidz." Ashley Vigio took it a step further with her Ashley's Bakery business, as she investigated her competitor's prices, discussed her target market, shared her menu and pricing, and talked about the benefits of her bakery compared to the others in town and how she would be socially responsible.